The Mental Massages team is looking forward to presenting at the Australian Society of Clinical Hypnotherapists (ASCH) Workshop on 25 August. Our 'Virtual Reality and Wellbeing' session will cover all things VR before looking at how this exciting technology could be used for Mindfulness and Wellbeing including integration with clinical practice.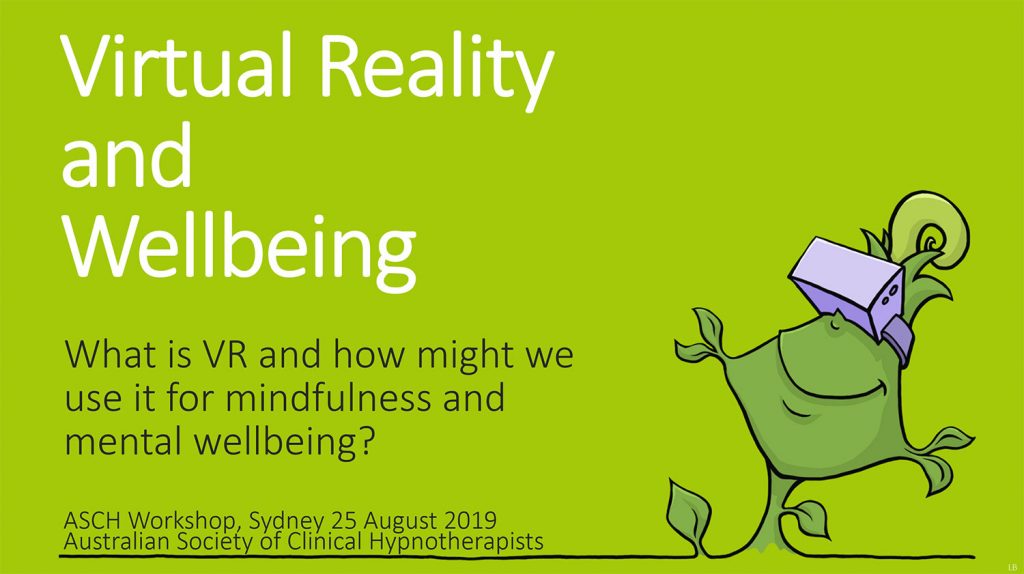 Virtual Reality (VR) offers some exciting opportunities for therapy, get an intro to Virtual Reality and what makes it exciting. We'll help you get to grips with the various hardware, software and terms while building an understanding the benefits VR experiences have to offer – particularly for Wellbeing. You'll get a chance to try out some VR experiences for yourself which really is the best way to appreciate VR's potential. Could VR work for you as a supplementary offering to boost client retention with minimal workload? Finally get some advice on how you might be able to get started on using it in your practice and have a little fun along the way.
Visit the ASCH Workshops Page for further details and to register your attendance. We are looking forward to seeing you there!
======
Edit Post Event: Things went very well with lots of intrigue from participants many of which were also having their first experiences in a headset too. There were plenty of healthy discussions about how therapists can go about including VR experiences as a component of their practice.
Thanks go to the organisers and all the attendees, was great to meet you all and discuss the technology and application in such a friendly environment.
Also a huge thanks to UNSW for the loan headsets that made the workshop so much more interactive for everyone.