We have been enjoying working through our Game Engine and Camera 360 video pipelines – the process of capturing that footage and integrating it with the updated scripts and other layers to create quality experiences.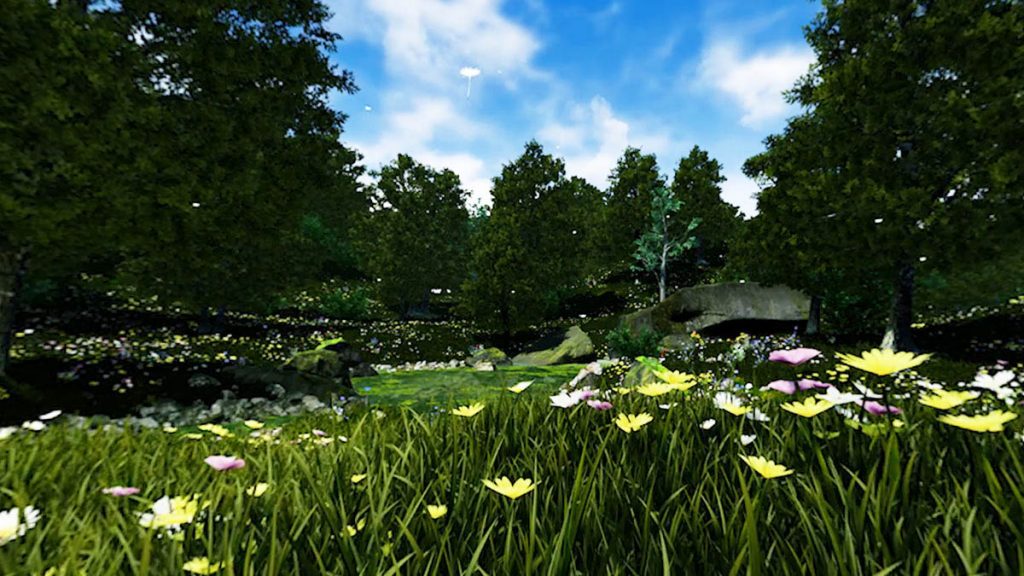 This is a shot from our Dandelion Meadow experience captured from UE4. With all the grass and trees this place takes quite some time to render out in this way but looks so lovely and lush in VR. We are also starting to capture real-world 360 footage of natural locations to complement our experiences. There is something profoundly uplifting and rewarding seeing our efforts running in the headsets and people's reactions to them.
We are enjoying the collaborative writing and creating the scripts as we weave in new practices, theories and approaches into our metaphors and topics. With our newly expanded team in place we have more perspectives and creative inputs – more news on that in a moment.
With the societal lockdowns in place due to the pandemic we have shifted more focus to our audio experiences. We will be loading up a few onto the site for people to grab for free and processing more onto your favourite audio stores and platforms as well, so keep an eye on the MP3 Experiences page for all of those.
Working separated from our team mates is challenging and requires adaptation from us as much as everyone else. We miss those welcome hugs and in-person camaraderie, but it is critical to do our part.
For everyone out there please look after yourself and others. We will post again soon with advice on how to look after your wellbeing through all of this.